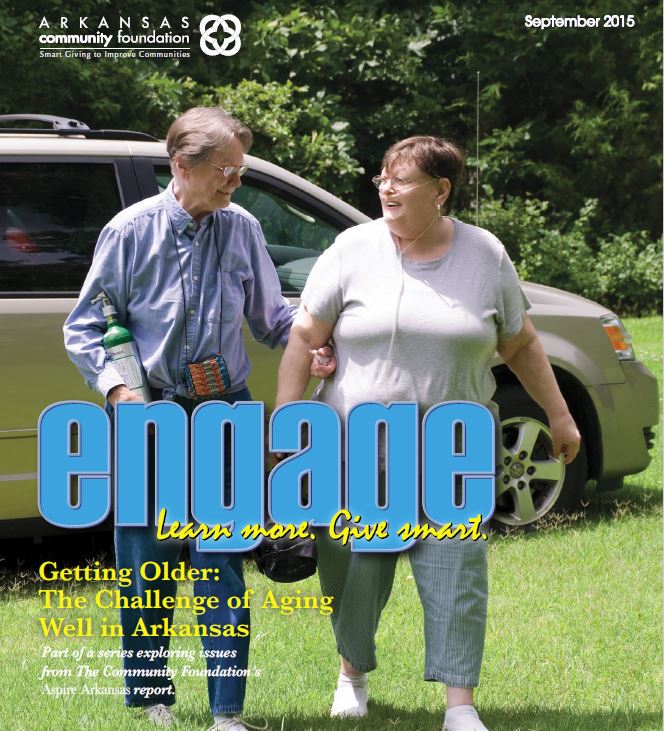 "Every town needs a Kindness," says long-time volunteer Janie Jones.
Kindness Inc., in Mountain Home, is a nonprofit organization that offers free transportation to elderly residents in Baxter and Marion counties who have places to go.
"There are other groups that have transportation for doctor appointments and hospital trips and things like that," says Jones, who lives in Bull Shoals, "but Kindness is designed just to keep people happy and keep them at home. We fill in wherever possible."
Kindness also provides respite services for caregivers and has handymen who volunteer to install handrails and wheelchair ramps and do other light repairs when needed, just for the cost of supplies, thus making homes safer for people who want to stay in them.
Kindness started in 1997 when a group from St. Andrew's Episcopal Church set out to brighten lives with the flowers used to decorate the church for Thanksgiving services. They delivered the flowers to shut-ins, and as they visited they heard those folks lament that they could no longer go shopping for friends and family on their own during the holiday season. Those volunteers took them shopping and pretty soon, their efforts morphed into something larger.
The outreach committee from St. Andrew's met with home-health professionals in the area and determined that, as in many parts of the state, the quickly growing elderly population had created many needs that could be supported most easily from within local communities.
"We used to have stay-at-home moms that would go and pick up Auntie Jean when she needed to go somewhere, but we don't have that anymore," says Margaret Pflug, one of Kindness's founders. "Our children are scattered. I've got grandchildren who live in five different states. A lot of times there isn't anyone."
The program grew too large for the church to manage, so in 1999 it was incorporated as an independent agency.
Kindness volunteers, many of them retirees themselves, drove 43,378 miles and spent 4,260 hours to get 222 clients to where they needed to go in 2014, according to Executive Director Debbie Wamock.
"Volunteers use their own vehicles and their own gas money," says Wamock. "We do offer reimbursement for mileage, but 90 percent of our volunteers don't ask for it. If they did we wouldn't be able to stay in business. Most of them consider that a donation to us, and that's a huge donation. We survive on fundraisers and donations and a few and far between grants."
Judy Light, the organization's only other employee – not counting a staff member whose salary is paid through Experience Works – says clients often send donations.
"Some send $5 or $7 a month, and they're on set incomes so we appreciate that," says Light, who has only met about half of the organization's clients face-to-face but knows most of their addresses anyway.
Light has a list of clients she calls each day, just to make sure they are OK.
"I think they look forward to those calls," says Light. "Some of them can't wait to start talking, and you can tell sometimes that's the only interaction they get."
She enlisted the help of one client who gets a daily Kindness phone call in making thank you calls to donors.
"And she's thrilled to be helping us," says Light.
There is a taxi service in Mountain Home as well as a bus service, but as in most rural areas, availability is limited and for people on limited incomes the cost can be prohibitive. Some services are limited to medical transportation are reserved for those who qualify for certain Medicaid services.
"I don't know what I would do if Kindness couldn't help me anymore," says Dorothy Elmore of Yellville, who asks for help in getting to appointments for medical treatments for an eye condition. "I don't have anybody. And it would cost me $100 to get Ready Service to come get me and bring me back."
Doyle Link, a retired pilot, is the volunteer who usually takes her. He signed up to volunteer about 10 years ago, shortly after his wife died.
"I was kind of looking for things to help other people and distract me from my grief I guess," he says. "I get a sense of satisfaction from it. I can see being in their position, you know, if you lost your ability to drive or lost your sight or just got old or had medical conditions so you couldn't drive anymore. It's kind of interesting, really. I enjoy getting to be with people. You do get a rapport with people."
Pflug doesn't know of another organization like Kindness in Arkansas, although she has offered resources and information to people who have expressed interest in starting one.
The Senior Companion Program through the Area Agency on Aging of West Central Arkansas is geared toward helping seniors in that region stay in their homes, including helping them make meals or do light housekeeping, go grocery shopping with or for them, or drive them to the doctor.
The program pays senior volunteers who visit at least two clients a week a tax-free stipend of $2.55/hour, plus 35 cents per mile. That program, funded by a federal Senior Corps grant managed through CareLink, is also available in central Arkansas.
In-home care is also offered through the state's Area Agency on Aging units, each operating a little differently than the other. Those services are based on assessment by a care manager and are billed accordingly. There are also, of course, private for-profit companies that offer in-home care and companion services.
And there is more going on right in Mountain Home to help the elderly.
Redeemer Lutheran Church has a group of volunteers who can be called on to make small repairs and to give an occasional ride to a senior who needs to go to a doctor's appointment.
That church is also home to the "Toenail Ministry" led by members with nursing experience. Once a month, about 50 seniors who sign up can come in and have their feet soaked, massaged and moisturized and their toenails trimmed.
"It's really a wonderful labor of love, rather unique kind of ministry," says Pastor Dave Gadbaw. "It is a big need, and that's what we set out to do is meet some of the biggest needs of people in our community."
Gadbaw wants others to know they, too, can help.
Jones already knows. She takes 92-year-old woman to visit her daughter in the nursing home, and during their visit she picks up a 90-year-old woman at an assisted living facility for a trip to the hair salon and then to Walmart, where she pushes her in wheelchair up and down each the aisles so she can see what's there.
She chats with the Kindness clients as she drives the to and fro, patting their shoulders and calling them "Baby," "Honey," "Darling," dictated by her Mississippi roots.
Last year she rushed one client to Little Rock when he got a call at 11 a.m. from the staff of a hospital saying there was a kidney available for transplant. If he couldn't make it there by 3 p.m., the kidney would go to someone else. The friend who was supposed to drive him whenever the time came happened to be out of pocket that day, so he called on Jones, who had taken him to prior appointments.
"My husband wouldn't be here today if it weren't for Kindness," says Anna Miller, his wife. "That's absolutely the bottom line. Janie picked him up 15 minutes later and got him to Little Rock on time."
Jones stayed while he went through a battery of tests to determine organ compatibility and then got prepped for surgery. A week later, she invited Anna to make the journey back to Little Rock to pick him up and bring him home.
"That's how we got to be friends," says Miller. These days, her husband is feeling better, but it's she who is suffering from health problems. So when he goes fishing or out with his buddies, Jones picks her up and brings her back to her house for tea or coffee and cookies or for supper.
Jones, who is 84, is grateful to Kindness Inc., for what it does for elderly people who want to stay in their homes and for what it does for her, too.
"I'm pretty sure that if I wasn't a Kindness volunteer I would be a Kindness client," she says. "It keeps me busy and it gives me purpose."
She's moving to Washington soon to be with her grandchildren. But's she's pretty sure she will try to start some sort of Kindness effort there.
"It's not so much about those of us who volunteer," she points out. "It's about the people we do things for. That's what's important. They're why we do it. It's a beautiful thing."