Benefits to breaking the habit are wide-ranging and far-reaching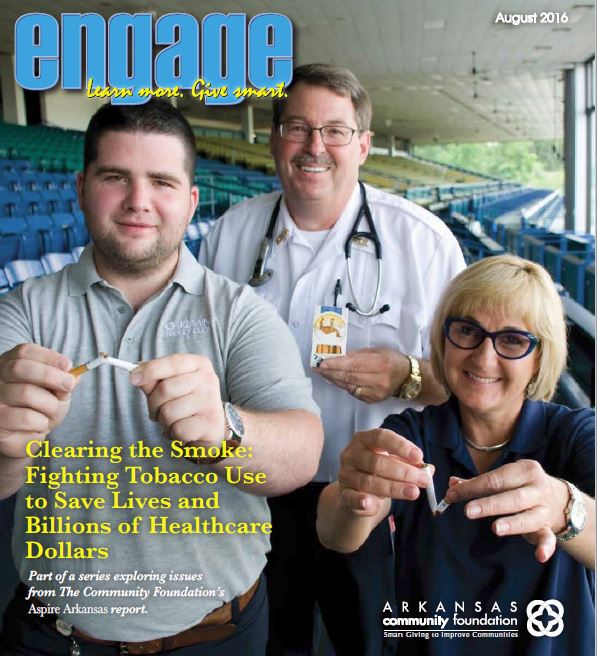 At Oaklawn Racing and Gaming, timing is key. Smoking cessation, even there, has to be done at the right pace. When smokers are ready and willing to quit, EMS/Wellness Director Ron Burnett helps speed up the process.
Burnett, who has worked on an ambulance since 1981, has told employees for years about the healthcare havoc he has seen wrought by cigarettes, all in an attempt to get them to stop smoking.
Last year, he became certified through the American Lung Association to lead Freedom from Smoking classes. Oaklawn absorbs the costs – $350 for Burnett's training and $25 per participant for materials. It's in the company's best interest. Smoking, after all, increases health risks, which in turn raises insurance costs.
"Oaklawn strives to help the employees and to help keep our insurance rates down," Burnett said. "Our insurance premiums have not increased in the last two years and we're working on year number three and that has been part of the factor here."
Pam Mullenix, Oaklawn's facility manager, had smoked for 32 years when she started Freedom from Smoking and wrote her quit date – May 5, 2015 – on her calendar. The night before, she snuffed out her last cigarette.
"I woke up that morning and I haven't had one since," said Mullenix. "My family supported me, but I don't think I would have been as successful if I didn't have the support system at work. They really held me accountable."
Freedom from Smoking has a 57 percent quit rate, according to Amy Ellis, regional director of health promotions for the Lung Association. At Oaklawn, six participants quit last year and three have quit so far this year.
"He definitely checked up on me," Mullenix said. "You have those moments that something will trigger and it's different for everybody. For me, it would be when I was cleaning my house and I would want to take a break and sit on my front porch and smoke a cigarette. That's when I would send Ron a text and say, 'Man, I'm really wanting one right now.' He would say, 'Don't even think about it.'"
Stephen Del Rio, director of Lifeway International in Little Rock, uses the possibility of financial savings, like those touted by Oaklawn, in his approach when he visits companies, pointing out the inherent costs of less-healthy employees who also take frequent smoke breaks.
"We want to be preventive and the way to do that is to create policies because that changes the social norms," Del Rio said.
Employees of companies large enough to offer smoking cessation services are, of course, not the only folks who need help quitting. Del Rio points to Ed Rhodes of Jacksonville of someone who targets another group.
Rhodes, a long-time volunteer for the American Lung Association, leads support groups in churches, community centers and other public places, for veterans who have often smoked for many years.
"I had a heart attack at 57 years old and during that ER visit I was told by my doctor that smoking caused my problem. So I quit smoking right then and I went through six weeks of rehab after that during which time I noticed that several people had been through the same surgeries and treatments that I had were getting in their cars after rehab and smoking on their way home," said Rhodes. "It's such a strong addiction and people don't realize it because it's so accepted in our culture."
He offers classes free of charge, using materials he's paid for on his own. "People who want to quit, who really want to quit, they're desperate – they're trying hypnosis, acupuncture, pills, gum … and you know, so did I," said Rhodes.
He quit cold turkey, but doesn't recommend that for others. "If something like that happens to you, if you're scared for your life, that's kind of enough. But if you're just trying to quit because you want to, it's really tough because the addiction is so strong. I recommend crutches. It's something that takes a lot of encouragement and planning on your part, and a change of lifestyle, really."
Tristan Traylor, diversity outreach coordinator with the Center for Healing Hearts and Spirits funded by the Minority Initiative Sub-Recipient Grant Office housed at the University of Arkansas at Pine Bluff, reaches out to a different group. He uses 40 Days to Freedom, a scripture-based smoking cessation program geared toward African-American church congregations across the state.
Traylor insists that all participants in the program also enroll in the Arkansas Tobacco Quitline, currently administered by the National Jewish Hospital in Denver. The Quitline offers both phone and online support, including nicotine replacement products at no charge.
The Arkansas Legislative Council voted in June not to renew the $1.8 million Quitline contract, but agreed to extend the contract by one month and will reconsider the matter at its August meeting.
Traylor offers smokers a $25 gift card for signing up and going through an initial evaluation with 40 Days to Freedom, and another $25 gift card for completing the program. The groups are small – at one church only three people came forward – but his success rates thus far have been good. All three gave up cigarettes, Traylor said.
Oaklawn, too, offers financial incentives for quitting.
Mullenix was eligible for a non-smoker bonus this year at Oaklawn, as was Austen Radimer, who works in Oaklawn's maintenance department. Radimer was advised not to smoke for a week after dental work, and after suffering through the night sweats and nightmares of nicotine withdrawal, he wasn't turning back.
The $100 he received last year for quitting – and that he will get every year for the foreseeable future unless he resumes his habit – was nice. But he sees even more financial benefit from not buying a pack of Marlboro Lights every day.
"They were $6 or $7," Radimer said. "I guess I've saved more than $2,000."
He can walk further, faster than when he was a smoker without getting winded.
"I can smell the shampoo when I put it in my hair now," he said. "I could not smell the shampoo before."
By Kim Dishongh