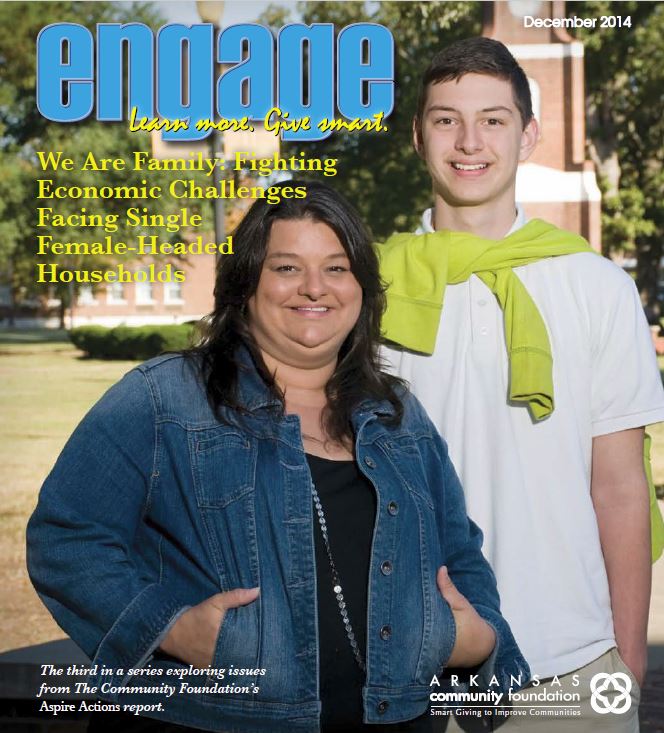 Crystal Trout wakes up her 4-year-old son before 5 a.m. each morning and drives him to his grandfather's house, where he catches the school bus to his all-day preschool program in Blevins, a half hour after she starts her 6 a.m. shift as an LPN at a long-term care facility one town over.
Trout, a single mother in Emmet, doesn't know of any childcare providers in her area that have weekend hours that match her work schedule, so she cobbles together childcare for Trenton on Saturdays and Sundays.
"My schedule changes each week," she says. "I have to juggle Trenton from one person to another, usually my brother and sister-in-law when they can. I have had to bring him to work with me before because my sister had to work and my brother and sister-in-law had plans. It's tough finding someone to keep another kid on the weekend when they have worked all week and need a break."
Trout's struggles are far from unique. Without partners at home, single parents are challenged to find consistent childcare, especially when they work nights or weekends or have fluctuating work schedules.
Clark County leaders decided childcare should be addressed through long-term strategic planning several years ago, particularly near the Clark County Industrial Park, where parents regularly worked second or third shifts.
In 2007, Southern Bancorp Community Development Corp. worked with county officials and industrial leaders to open a 24-hour, seven-day-a-week facility in that area. The $1 million project was funded through a $692,000 grant from the U.S. Department of Health and Human Services, Administration for Children and Families, Office of Community Services, a $300,000 start-up business loan from Southern Bancorp Capital Partners, and revenue from a ½-cent countywide sales tax, says Dominik Mjarten, CEO of Southern Bancorp Community Partners and executive vice president of Southern Bancorp Inc., whose job at the time involved finding creative ways to put together finance packages to accomplish community projects.
The 7,800-square foot center was built near the industrial park, about five miles south of Arkadelphia, and Danfoss Scroll Technologies and the Fabrikant Mads Clausen Foundation, established by the company's founder, awarded a $17,000 grant to cover playground equipment for the center.
Alas, around the time center opened in 2009, the recession hit the state. One company in the industrial park closed and several others downsized. Hours were cut, parents were laid off and no longer required – or could afford – childcare, and the center struggled to make its projected budget.
The center has since been taken over by the Arkadelphia Public Schools, which had been a partner in the project from the beginning.
"Public schools have operating money but they don't have money to build buildings. We had a building that was high tech and perfect location," says Shelley Loe, executive vice president of Arkadelphia Regional Economic Development and Area Chamber of Commerce. Loe worked with Southern Bancorp during the planning stages of the project.
"It was just a beautiful partnership. Even though it didn't work out the way we really hoped, it ended up 10 times better because now we have a public school system that has birth to 12th grade."
A couple of other Arkansas groups are tackling childcare issues not by starting programs with more flexible hours but by improving the quality of programs that already exist.
Arkansas Preschool Plus, formerly Lifelong Learners, is a Conway non-profit joining forces with local businesses, the chamber of commerce, and AETN to help provide resources and training opportunities that the 20 centers they work with might not be able to afford on their own.
Centers that charge more for care or that get state or federal funding can provide their staff with training and purchase materials and improve their facilities more easily than some of the more affordable private centers, explains Charlotte Green, gifted and talented placement supervisor for Conway Public Schools and founder of Arkansas Preschool Plus.
"We work with these private centers to provide professional development and to create a system where they have access to quality professional development and more professional development, like the other centers do and we do it for free," she says. "Then we write grants for them to try to get access to additional materials that a small business might not have the funds to buy."
Some parents of kids 12 and under qualify for Child Care Assistance vouchers through the Arkansas Department of Human Services and the Division of Child Care and Early Childhood Education, based on income on a sliding fee scale, as long as each adult living in the household is employed at least 30 hours per week or is enrolled in and attending high school, college, GED classes, vocational school or a training program as a full-time student, or at least 30 hours of combined work and school.
According to DHS Communications Director Amy Webb, Arkansas gets about $48 million in federal funding each year for the Child Care Assistance program, along with a state match of about $7 million. "Once the state gets the money, it allocates to counties based on where the eligible families are located," says Webb. "The program serves about 10,000 children each year. There are an additional 3,200 on the waiting list."
Trout was one of those who did not get assistance with child care payments, even when she was in college full-time.
"I couldn't get help because there were no more funds," she says. "I lucked out finding a place close to the college. I had to pay $75 a week for one child."
Single parents who don't qualify for funding still typically have lower incomes than two-parent families and are therefore more likely to seek out the more affordable childcare centers.
"If money is an issue, they're going to be looking for a daycare that is the least expensive and some of those are the ones bringing in minimum revenue and a lot of times they don't have the funds to do a lot of the things so you just have a cycle," says Green. "We're really trying to close the gap, so to speak, of people's opportunity to expose or have a quality preschool experience.
We're trying to create a system where every child has access to the necessary things they need before they're ready to go to kindergarten."
Arkansas Preschool Plus offers home support, as well.
"Everybody needs something to default to, when you're tired, when you've had a long day – and a lot of times single parents find themselves that way because they're doing everything and so they need strategies that are effective and that they can default to," she says.
Green is also chairman of a statewide advisory committee attempting to make the Dolly Parton Imagination Library, now in about 40 counties, available to all Arkansas children.
"Our home support entails many things but the heart of it is probably getting books in the home," she says, adding that single parents have less disposable income with which to buy books as well as less time to research what children's books they should spend their money.
Children signed up for the Imagination Library get one book in the mail each month from birth to age 5.
The Imagination Library is a cornerstone of the Bryant Early Education (BEE) Coalition as well.
"It's only $2.08 per month per book, so we raise that for every book that we mail out to every child that's enrolled in Saline County," says Pam Toler, who works for Arkansas State University's Child Services and is coordinator for the BEE Coalition.
"We know that the more academic success you have the more likely you are to graduate from high school and if you graduate from high school you're more likely to have a higher earning and you might go to college. Investment in those first five years really sets the stage for the rest of their life, so for every dollar invested in those early years you get like a $7 to $9 return overall in that child's life."
The BEE Coalition has a mission similar to that of Arkansas Preschool Plus, working with centers in Bryant to increase their ratings through the Arkansas Better Beginnings Program so that parents can identify them as quality programs through the Arkansas Quality Rating Improvement System.
She meets monthly with center representatives and coordinates an exchange of information between them and local providers, like therapists and educators.
None of these innovative childcare programs have made their way yet to Hempstead or Nevada counties, where Trout lives and works.
Each day, she comes home from work to grab a quick nap before meeting Trenton's bus in the afternoon, which gives her enough energy to play with her little boy in the front yard until it's time for dinner and a bath and then she tucks him into bed.
"I tell people I've worked eight hours and then come home to start my second job," she says. "It's all worth it, though."