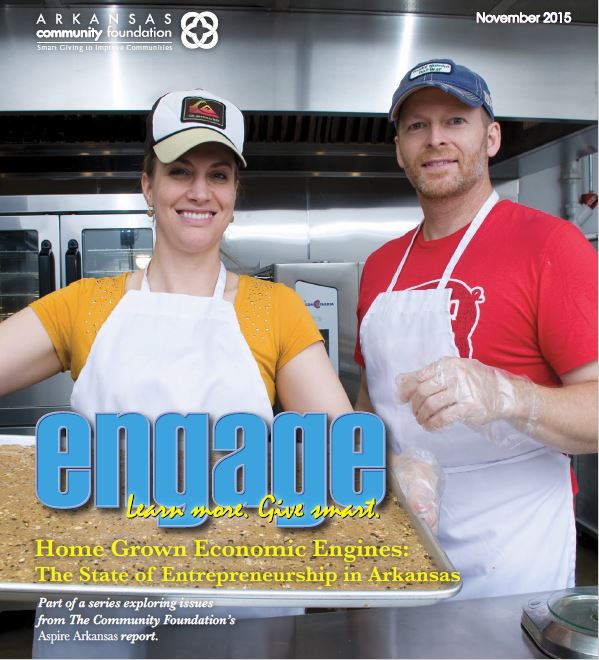 It's a new day for entrepreneurs in Arkansas.
We'll take a look at why in a minute, but first, we must note that entrepreneurs have succeeded in Arkansas for years. Think Sam Walton. Witt Stephens. Don Tyson. William Dillard.
"Arkansas is a very entrepreneurial state with a rich entrepreneurial history," says Warwick Sabin, director of the Arkansas Regional Innovation Hub, adding that Arkansans have been "surrounded by entrepreneurs for many decades. It's part of our culture."
But there's a new energy today, fueled in part by partnerships between private and public players joining forces to more effectively support Arkansans with promising business ideas.
"What's happened recently is people are more aware of the need to intentionally support entrepreneurship as part of the overall strategy for economic growth," Sabin explained.
Connecting the Dots for Entrepreneurs
The Innovation Hub in North Little Rock is a case in point. Supported by both private and public funding, the Innovation Hub opened its doors two years ago and has been igniting the local economy ever since with unique opportunities and programming for innovators and entrepreneurs.
"There are a lot of resources that are available that if you just connect the dots and make them accessible to people, they can take advantage of all that's out there," Sabin said. Connecting those dots is what the Innovation Hub does so well.
For instance, it houses The Launch Pad, where ideas can be transformed into prototypes for new products using high-tech equipment. Several local businesses, including Diamond Bear Brewing Company and PK Grills, are using the facility to design and build needed parts.
What's more, the Innovation Hub will soon open doors to The Silver Mine, where entrepreneurs can find support for accessing needed capital, refining business plans, growing new businesses or even renting co-working space. And the Innovation Hub partners with other organizations such as The ARK Challenge, which focuses on growing technology startups, and the state's angel fund organizations, which provide funding to emerging companies.
Supporting Food Start-ups
One of the newest organizations "connecting the dots" for people who have promising business ideas is the nonprofit Delta Cuisine Commercial Kitchen and Food Business Incubator in West Memphis, which opened in mid-summer. It partners with ASU-Mid South Community College and shares a new state-of-the-art facility with the school on its campus.
"In addition to kitchen rental for food entrepreneurs, we also provide business coaching" for people who have already taken the first steps of planning or opening a food-related business, Delta Cuisine director John Auker explains.
The incubator – "it's like a regular restaurant kitchen on steroids" – already signed up four clients in its first six weeks, and others are touring all the time, Auker says.
Delta Cuisine clients must have already developed a business model that has a chance of success, he says, adding, "You can't just have a recipe you want to try out" in a professional kitchen.
Auker then will work with those clients to refine their business models as well as to pursue the regulatory steps necessary to opening a food-related business.
Clients at Delta Cuisine include local farmers who bring in produce and add value to it before taking it to market. For instance, a blueberry farmer could bring in berries and make jams or a vegetable farmer could use the facility to chop tomatoes and peppers and then create a salsa.
"You also could just take salad greens, sort and grade, rinse and sanitize" and then package them for sale, Auker says. "It's true farm to table."
Delta Cuisine meets a specific need in eastern Arkansas, Auker believes.
"What it's doing is making possible some people's dreams of starting a food business. In the bigger picture, we're starting the platform for almost any business. … I'll try to help them however I can," he said.
It's that kind of support that is reenergizing the culture for entrepreneurs in the state.
Investing in Women Business Owners
Entrepreneur Michelle Deininger is a perfect illustration of the change.
In 2000, she decided to make a huge career change, from being a nurse and pharmaceutical rep to becoming an entrepreneur. Her passion was helping patients, especially elderly ones, live more fulfilling lives despite their health issues. After hours in local libraries researching "activities of daily living," she purchased a medical supply business and made it her own – Arkansas Medical Supply in Little Rock.
In addition to learning on her own all she could about medical supplies and how they can best assist patients, she realized she was also on her own when it came to the business and regulatory side of things. She was able to hire a friend who was an accountant, which helped. But with some of the evolving regulatory issues, well, she learned the hard way.
Fast-forward to the year 2012. Unlike many small businesses, Arkansas Medical Supply still opened its doors each week day. Yet Deininger knew that her staff needed recharging and her business needed a boost. While attending a state procurement workshop, she was impressed by presenter Sherry Howard, then the new director of the equally new Arkansas Women's Business Center, a co-venture of the Small Business Administration and Winrock International headquartered in El Dorado.
"She gave me her card and told me her services were free. When I heard 'free,' I immediately thought 'red flag!' Not really, but I wasn't sure either," Deininger remembers. "But I liked her and contacted her."
During the next two years, the Arkansas Women's Business Center was instrumental in helping Deininger resolve some issues with her staff as well as put a renewed effort into marketing her business.
"We provide one-on-one counseling to women entrepreneurs as well as a large variety of training programs, largely in conjunction with community colleges," explains Liz Young, the current director of the Arkansas Women's Business Center. The focus on females is because "women entrepreneurs have historically run into many more challenges, especially when it comes to access to capital."
Since its start five years ago, Young says that the Arkansas Women's Business Center has hosted 176 training classes, during which it has trained 560 individuals. In addition, "we have helped 35 businesses start and create over 50 jobs."
Deininger points to the Arkansas Women's Business Center and other organizations designed to help businesses get off the ground, such as angel fund organizations, incubators and accelerators, and knows she would have had a much easier time working through the stresses of starting a business had they been available in 2000.
But she's grateful they are here now.
"The Women's Business Center gave my business that extra spark," Deininger says, crediting the organization's help for "getting my staff excited about the business in general and about how we can be better at what we do."
By Julie Johnson Holt