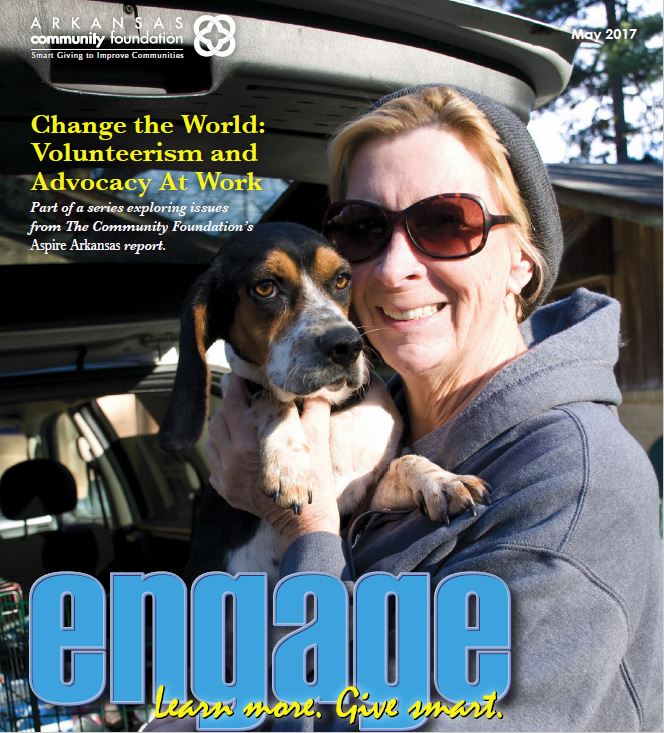 There was a flurry of activity on a rural road outside of Fordyce on a recent Wednesday afternoon – cars and pickup trucks rolled down the long driveway, people climbed out and called instructions to each other across the yard, and dogs barked – there were lots of dogs and lots of barking.
Gina Smith of Stephens, a volunteer with H & P Animal Alliance and Columbia County Animal Protection Services, arrived from Magnolia with five dogs in crates and she met up with volunteers from several other non-profits – Calhoun Animal Rescue Effort, Flash of Hope and a couple of others – who also had dogs to load into the Morning Meadow Animal Rescue (MMAR) transport van.
Mandy Noles from MMAR was gearing up for an overnight drive to Brooklyn Park, Minn., home of Midwest Animal Rescue & Services, where all of the 70 dogs she took are expected to find homes. Her own dogs, Popcorn and Auggie, were a happy part of the melee, knowing they would get to ride shotgun for the whole 1,600 miles there and back.
Rescue groups depend on volunteers to do tasks ranging from raising money to cleaning kennels. Smith's chosen role is driving animals on the first legs of their journeys, though she has the utmost respect for folks who give temporary homes to animals awaiting adoption.
"The fosters look at it in a way that's very healthy. For every one they foster, that's a life saved out of a shelter," says Smith. "That would be harder for me, though. But I can transport them anywhere."
Smith has been driving dogs for H&P for about a year, usually two or three at a time to Little Rock or Mountain Home to meet other drivers who would take them to Kansas City to meet yet another driver who would move them closer to their final destinations. She once loaded 26 into her stock trailer for a trip. Driving to Fordyce is easier, she says.
Paula Robinson started MMAR in 2010 and Noles, then Fordyce's parks and recreation director, joined her a month later after they met at a city board meeting where the rescue was to be discussed. Robinson has since gone back to working full-time but still takes time out to clean out kennels at Morning Meadow, housed on land that has been in Noles' family for several generations.
Robinson's work with abused and neglected children is stressful but she relishes the effort she puts forth at Morning Meadow. "We don't consider animal rescue to be hard work," Robinson says. "This is my happy place."
Volunteers like these committed animal welfare workers play crucial roles in the missions of nonprofits throughout Arkansas.
Diana Stensland of Russellville joined the Saint Mary's Regional Health Center's Volunteer Auxiliary six years ago after retiring from the corporate world. She had been a part of the auxiliary for a year when she was asked to serve as vice president. After two years in that role, she served two more as president, and she is now on an advisory board to the organization's new leadership.
During her time with the auxiliary she has helped the group further the "Look Before You Lock" campaign by passing out hangtags and clear stickers for outside mirrors and has championed several fundraisers to raise money for scholarships for hospital employees. The auxiliary has awarded about 15 $500 scholarships in the last two years.
Stensland says her volunteer work has had some surprising benefits. "Most of our volunteers are over 65 and a lot of the ladies who work with us are widows," she says. "We really support each other, and we support each other and check on each other."
Her weekly duties at the hospital include greeting patients and families and taking them to the parts of the hospital where they need to go. That, too, has brought unexpected rewards. She remembers helping a woman whose husband had recently died look for his misplaced hearing aids.
"In that time, she told me all about her life story and about what her husband meant to her. I like hearing about people's stories. I think she went out feeling that we had really tried to help her and for a few minutes she was outside her grief. There's no amount of money that can be put on that," she says. "I can tell you story after story about people who have come in and they've been distraught and we have been able to help them in whatever way God puts before us. It's a personal touch and there's no amount of money that can be put on that."
Stacy Lindsey of Greenbrier also reaps the rewards of volunteering. For the past year, she has tutored two students for the past year through Literacy Action of Arkansas.
"I had really wanted to volunteer for a literacy council for a long time because I think that illiteracy is one of the biggest handicaps in our society and one that we can overcome more readily than others," says Lindsey, who homeschooled her sons, now 17 and 20, including teaching them both to read.
She was trained through Literacy Action and uses the organizations detailed curriculum to help her students – a 21-year-old and a 77-year-old – learn and improve their reading and writing skills.
"They are without a doubt the most fulfilling two hours that I spend all week long," he says. "I absolutely love it, especially with the older lady and knowing that she's starting with almost nothing and learning the letter sounds and how they're all put together to make a word. It's incredible."
Lindsey works part time and sometimes has to rearrange her schedule so she can meet regularly with her students, but she considers that time well-spent.
"If you find something that you're passionate about and you're volunteering for two hours or however long every week," she says, 'the reward that you get far outweighs whatever inconvenience that you may struggle through. It's worth it."